Table of Content
Fredericksburg is situated halfway between Richmond and Washington, D.C. There is always something to do. Be ready to meet historical sites as well as a variety of different adventures. You may choose water activities or a hiking trail. Historic Downtown Fredericksburg offers more than 60 restaurants. They are located in renovated 18th and 19th-century structures.
The Riverside Center for the Performing Arts, local theater companies, and neighborhood museums host cultural and entertainment events. Visit craft breweries and the distillery, kayak on the Rappahannock River, or observe artists at work to create one-of-a-kind art pieces.
Typical Fredericksburg, VA winery tours include a walkthrough of vines and up-close encounters with winemakers. Wine tasting in Fredericksburg, VA takes place during or after your excursion. You can plan excursions to any taste and for every kind of group. Every trip offers the chance for a distinctive experience throughout the year. 
Over the past 20 years, local tour guides have worked with various outstanding Fredericksburg area wineries. At first, there were few vineyards in Fredericksburg, VA. Now you have an opportunity to see excellent wineries of various kinds that are located all over the area.
Winery Fredericksburg, VA excursions and wine tastings are among the most popular options. Couples usually reserve limousines for special tours. Often surprise proposals are made among the vines. Such tours are trendy for girls' nights out and there are group excursions to many vineyards in a single afternoon. Even weddings in wineries are also typical. So you can choose a trip for any motive and to any taste.
Best Fredericksburg Area Wineries
#1. Oak Crest Vineyard & Winery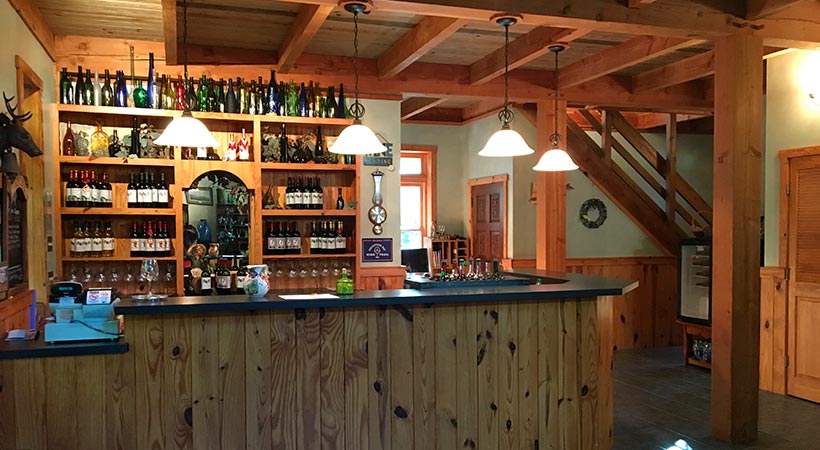 The family of Conrad Brandts put in a sustained effort that resulted in the opening of Oak Crest Winery in King George in 2002. Genetics, a scientific mind, fortuitous circumstances, and the desire to produce excellent wines and share them with others all played a part in establishing this venue.
The local society members and friends held a casual "identify the winery" competition. The depth of symbolism associated with the oak trees that line the crest around the vineyard is why "Oak Crest" was chosen. The best wines are made using oak, and the family's German crest features an oak tree. A little artistic license was used by adding the acorn to distinguish the tree as an oak tree. They have a family-friendly atmosphere and want to become "The best little-ole winery in Virginia."
Oakcrest winery has preferences for Bordeaux-style red wines and Rhine-style white wines. Here you can share a glass of oak crest wine paired with delicious cheese and sausages.
#2. Lake Anna Winery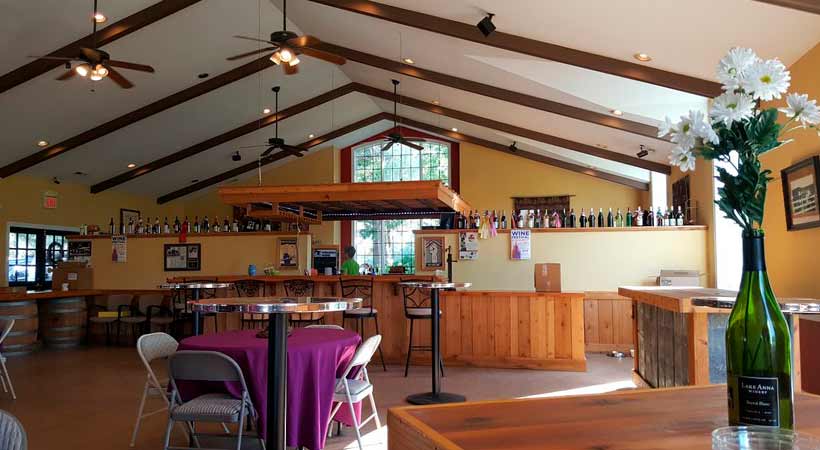 Lake Anna Winery is situated in Spotsylvania County. It is an award-winning vineyard. Throughout the year, they propose a lot of events for their customers. Lake Anna Winery is famous not only for its wines but for its cuisine too. This venue is close to Historic Fredericksburg. That is why it is a great place for different events.
It is a second-generation family-owned venue. The Lake Anna Winery tale started during a 1981 business trip to France. Bill Heidig recognized that the climatic and soil characteristics of several grape-growing regions in France were comparable to those in Spotsylvania County, and an idea began to germinate. He told his wife Ann about the idea of planting grapes when he got back. The two decided to start a family company.
Now they offer award-winning wines made from estate-grown grapes, welcome families, and have a fun atmosphere.
#3. Potomac Point Winery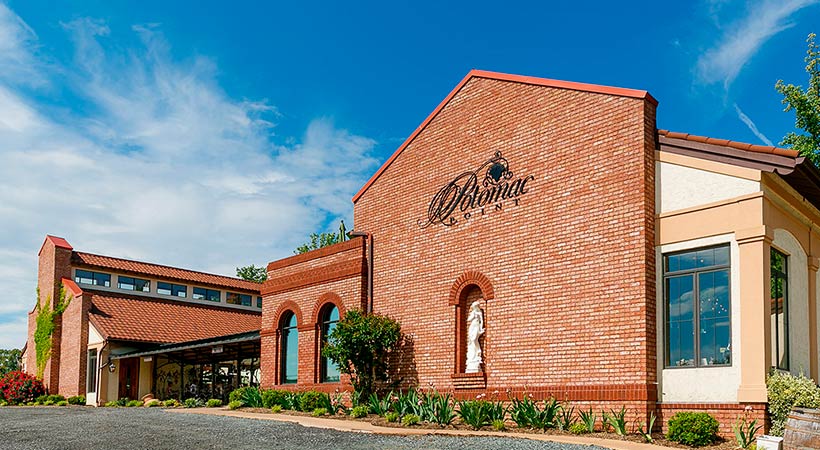 Potomac Point Winery is located between Aquia Creek and the Potomac River. Potomac is a great place for any wine enthusiast. It has achieved over 60 awards for its excellent wines. In addition, the region has beautiful grounds for weddings, parties, and gatherings.
When Potomac Point Winery & Vineyard was established in 2007, their goal was to produce outstanding wines which combine authentic experiences steeped in European culture and the natural beauty of the Virginian hills.
Their award-winning winery was intended to be more than just a tasting facility where you could enjoy a meal with loved ones and friends. This warm, endearing, and joyous experience is what draws visitors and club members to Stafford, Virginia, to take in the expansive vistas, magnificent architecture, and incomparable environment.
The Potomac Point resort specializes in marriages and private parties for up to 200 guests in addition to their exclusive on-site events.
#4. Hartwood Winery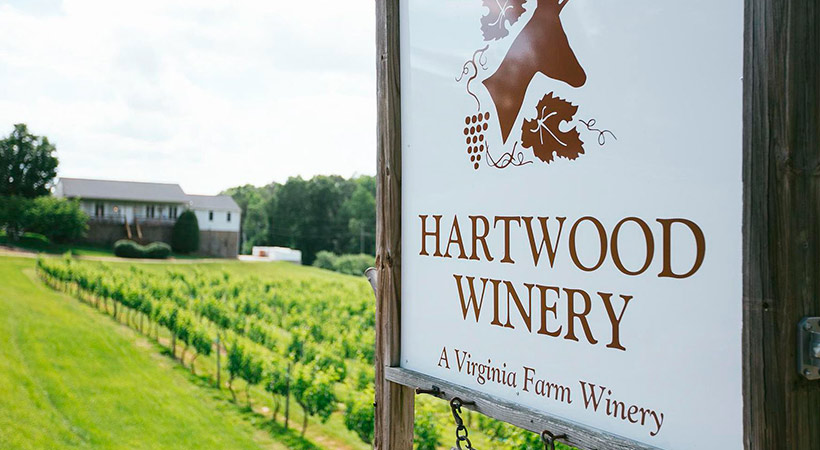 Hartwood Winery is the first commercial winery in Stafford County, Virginia. There are seven acres of grapevines here. It produces wines that even children may try in a family-friendly atmosphere. You can see Blanc, Vidal, and Chambourcin grapes in their vineyards. Also, you may visit different unique events held at Hartwood.
In the spring of 1989, it began to accept visitors. Its name is derived from a local myth that alludes to the dense deer population in the region. The owner Jim Livingston established this venue while working as a teacher in Prince William County. He was an active participant in the manufacturing of Virginia wine. Then in 1981, he also started Stafford County's first for-profit vineyard.
#5. Mattaponi Winery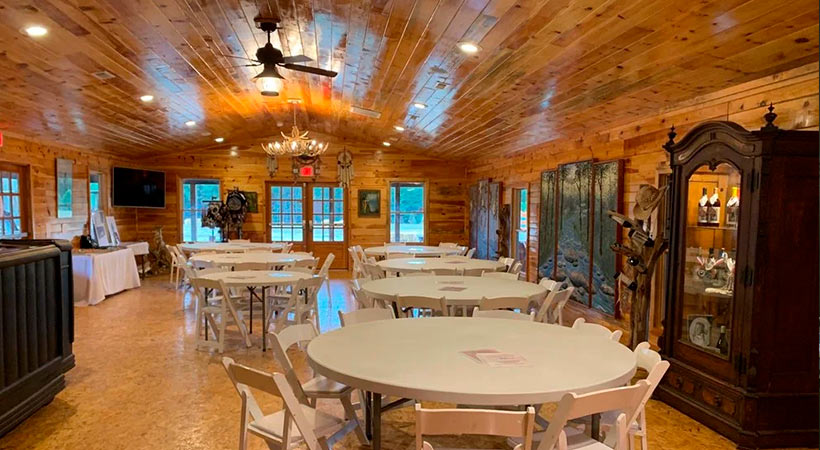 The Mattaponi Winery is located in Fredericksburg, Virginia. It is dog friendly and has a welcoming environment for families. Visitors can try its award-winning strawberry wine or the Niagara grape-based Wabamin semi-dry white wine.
There is a charming rural tasting room. The winery name is connected with the local Native Americans. You can find this room in a historic house. The house was built in 1714. Robert Beverley Jr. lived in this house near the head of the Mattaponi River. Here he started to grow native grapes. He also had trade relations with Native Americans. Last year the winery got a new owner Janette Evans. She is Cherokee.
#6. Rogers Ford Farm Winery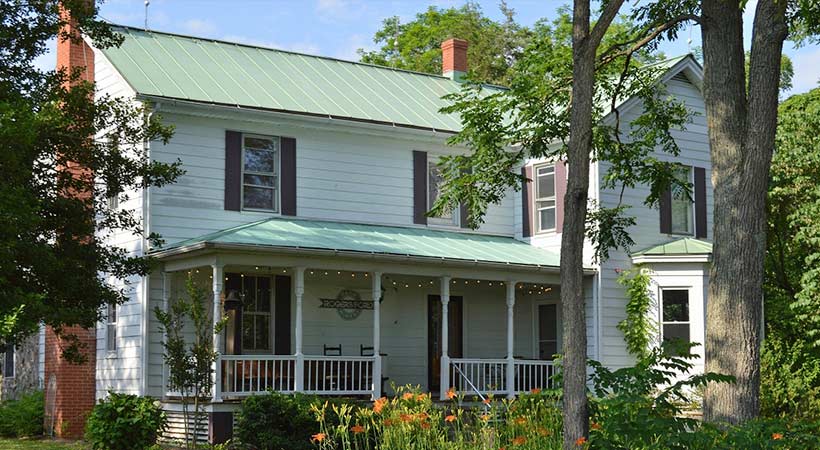 Although a little off the beaten route, this outstanding winery is a must-see for anyone going west of Fredericksburg. They have excellent options, including Vidal Blanc and Virginia Red Select. Also, be sure to visit their brand-new bar located inside the old farm home.
The initial building on the property is relatively modest, so as you go closer, you might become a little worried. However, when you drive farther onto the property, you will find a reclaimed farmhouse that is charming and welcoming. Tasting guides "do a terrific job leading you through the different nuances".They offer a wide variety of outstanding wines, from dry to sweet. Wine tasting is subjective. Bad wine is one thing that is objective, and Rogers Ford Farm Winery does not have any.
#7. Eden Try Estate and Winery Eden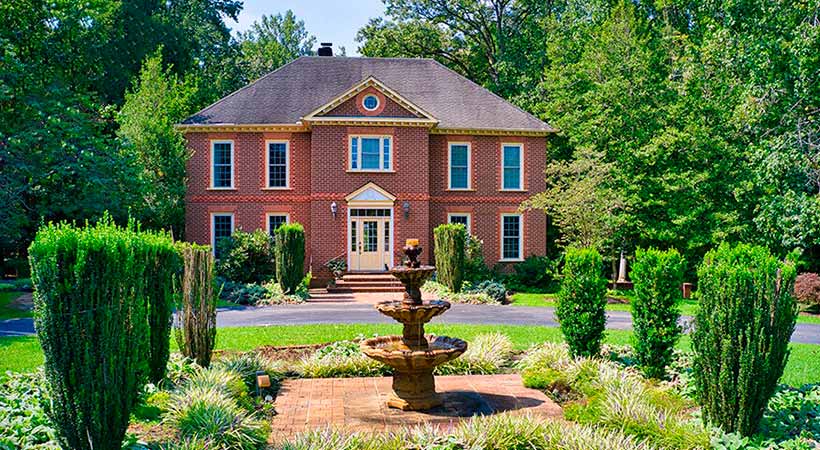 Eden Try Estate Vineyard and Winery is situated halfway between Richmond, Virginia, and Washington, DC. It is a 12-acre estate. This great winery is family-owned.
The horticulture and vineyard were created in 2005. The name combines a parody of the Garden of Eden and a tribute to the beauty of the region. On the territory of the estate, you can find walking areas, old tree alleys, fountains, a terraced rose garden, and grape vines.
#8. Bacchus Winery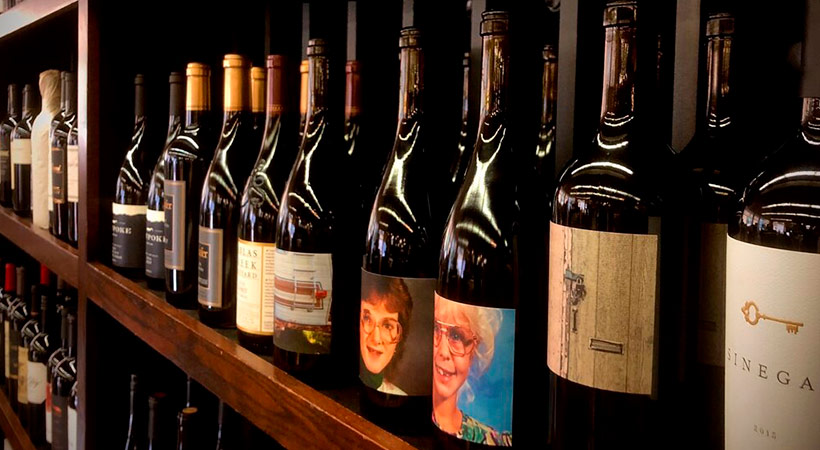 Bacchus Winery and Supply offers a fresh, distinctive, fascinating winery experience. They combine their Virginia Farm Winery and Commercial Winery into one location, providing their customers with various experiences. They offer a vast assortment of wines, all of which are produced and bottled there.
In addition, they give beginner to advanced workshops, tastings with gourmet dishes, the ability to make your own wine on-site using a wide range of ingredients from Virginia and around the globe, as well as all the necessary tools and materials.
#9. Ankida Ridge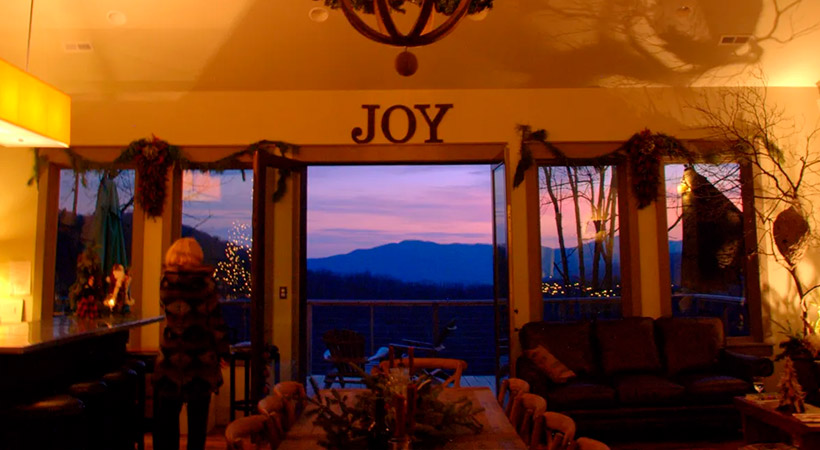 The winery founders Dennis and Christine Vrooman decided to sell their Virginia Beach veterinarian clinic. They moved from Virginia Beach to purchase a cottage on the Blue Ridge Mountain slopes. There were 100 acres of rugged woodland surrounding their new cabin.
A family-owned winery in Virginia with the aptly named Ankida Ridge vineyard is known for its Pinot Noir. It is situated in the Blue Ridge Mountains and uses organic farming methods. It makes its wines with rocky soil and organic pest control methods.
#10. Molon Lave Vineyards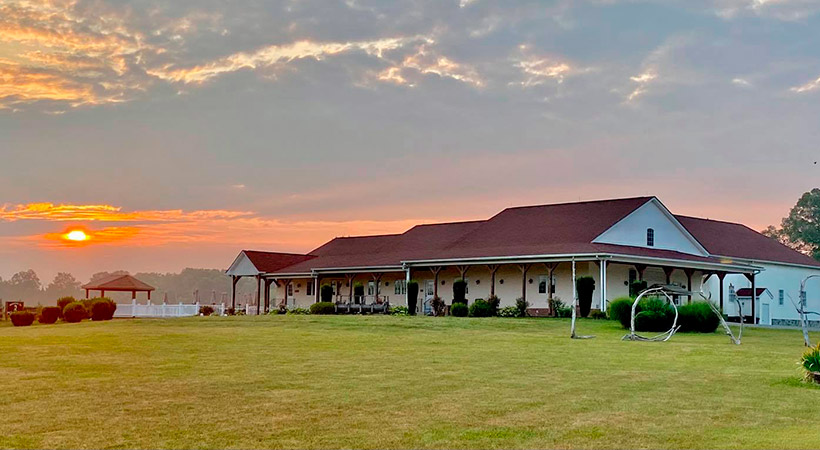 In Warrenton, Virginia, on fifty acres of pristine farmland, there is a family-run farm winery called Molon Lave Vineyards. Currently, nine acres of their vineyard's fruit are planted with more than ten distinct grape varieties.
In the next three years, more vines will be planted, with the eventual goal of producing fruit on the site across twenty acres. Chardonnay, Riesling, Vidal, Chambourcin, Merlot, Cabernet Franc, Cabernet Sauvignon, and other grape varieties are all farmed on-site. The farm's vines were planted in 2003, and on November 1, 2009, the winery and tasting room officially opened.
What Wines Is Fredericksburg, VA, Known for?
Riesling
Virginia Riesling produces sweet, fragrant wines with notes of citrus and lime. Both the palate and the finish are clear and refreshing. The Virginia Riesling pairs beautifully with seafood and many types of cuisine. The adaptable wines come in wide varieties and go well with both Chinese and seafood meals.
Viognier
A fragrant wine with tropical flavors is called Virginia Viognier. The fruit can have subtle bitter flavors and flowery or spicy overtones from oak aging. This fruity beverage goes great with veggies and fish. Due to its adaptability, it can serve a wide variety of meals. Grapes are renowned for their thick, loose skin clusters. Most great examples smell like citrus or flowers, which are both refreshing.
Horton Norton
Virginia Horton wines are made with local grapes. This grape has a low tannin content and a great flavor. The wine has intense fruit flavors when they get older, but they can also acquire complex tastes. In addition to earthy notes and touches of vanilla and chocolate, the fruit boasts strong smells of blackberries and cherries. Older fruits have less flavor, but they still have a trace of oak or spice.
Cabernet Franc
In Virginia, Cabernet Franc grapes are among the most widely cultivated and well-liked. Since its introduction in 2009, Cabernet Franc has dominated the wine business, but Petit Manseng and Cabernet Sauvignon are close behind. Dennis Horton, a winemaker from Virginia, planted his Cabernet vineyard in 1990. The warm-climate grape variety Cabernet Franc is particularly suited to the coastal climate of Virginia.
Petit Manseng
You should know Petit Manseng if you desire a fantastic wine. This grape has deep, berry-like flavors and is a white version of the Black Manseng grape. The flavor goes well with Asian meals and is sweet and reminiscent of candied fruits. These grapes are raised in a humid atmosphere. As a result, its little berry grows in rot-resistant loose clusters while tasting sweet and delicious.
Why Is Any Winery Fredericksburg VA?
Virginia is a wine destination with more than 300 award-winning wineries, dozens of wine trails, magnificent landscapes, breathtaking views, charming small towns, and significant historic buildings.That is why wine tasting Fredericksburg VA is so popular.
Every bottle of Virginia wine has a distinct flavor because of the winemakers' commitment to a genuine feeling of location. The city of Fredericksburg, Virginia, is swiftly rising to the top as a wine-tasting destination on the east coast. Using the information above, you may plan Fredericksburg VA winery tours. Considering the variety of options you may choose a winery with a wine bar Fredericksburg, VA up to your taste.