Table of Content
Are you fond of traditional Cuban food and looking for the best Miami Cuban Restaurant nearby? It is easy to do.
Miami Beach is an international city. Miami Beach is famous for its mix of South American culture. The town itself and its culture are diverse and unique. But the major culture in Miami Beach is Cuban.
And Miami Beach is proud to offer you the best Cuban food outside Cuba. You can find anything you wish here. Would you like sour or spicy, smoky or sweet? Miami can fulfill all your desires. You can not go past the smell of fresh peppers, onion, or garlic.
Cuban cuisine is based mainly on Spanish cuisine and influenced a bit by African and other Caribbean cuisines.
Cuban cuisine is less refined than French or Greek. It is distinguished by ease of preparation and a relatively affordable set of ingredients. But unlike the European one, it is very demanding on cooking methods. Cuban restaurateurs in Miami Beach take special care to ensure that all components are well-cooked and fried. It is important to achieve good softness and, at the same time, maintain shape.
Cuban meals are very homey. They are simple and not very spicy. That is why people from different countries like it a lot. Cuban food in Miami Beach is affordable and available everywhere. Continue reading, and you will learn about the Best 10 Cuban Restaurants Miami Beach, Florida.
Most Delicious Cuban Food
Many Cuban restaurants in Miami Beach, not far from Ocean Drive, serve traditional food. A typical meal includes sandwiches, rice, and beans cooked together or separately.
The Cuban Sandwich
The Cuban Sandwich – called "Mixto" – is a popular appetizer consisting of lightly buttered Cuban bread and includes citrus-juice-marinated roast pork, thinly sliced ham, Swiss cheese, pickles, and yellow mustard.
Arroz con Pollo
Arroz con Pollo or Arroz imperial – Cuba's favorite chicken dish, Arroz con Pollo is similar to paella but without the seafood. Instead, the dish is made from rice and chicken with traditional sofrito sauce.
Moros y Cristianos is a national dish served in almost every Cuban Restaurant. They are made from rice with black beans.
Ropa Vieja
It is a traditional Cuban dish made from brisket or steak stewed in a fragrant tomato sauce. White rice is served as a side dish. The name translates as "old clothes," but this did not affect the taste.
Vaca Frita
Vaca Frita is made from beef marinated in oregano, parsley, cilantro, garlic, cinnamon, and red vinegar and then fried until crispy and served with onions and green peppers for a splash of color.
Tostones
Tostones are double-fried slices of sycamore (a type of banana), similar to potato chips. Fried sweet sycamore pieces are a classic snack. Tostones are served with salad leaves, cheese, and various sauces.
Malanga Fritters
Malanga is similar to yam in appearance but tastes like potatoes. This delectable dish is made from taro root mixed with egg, minced garlic, and deep-fried. It is a great snack option.
#1. Habana Vieja Restaurant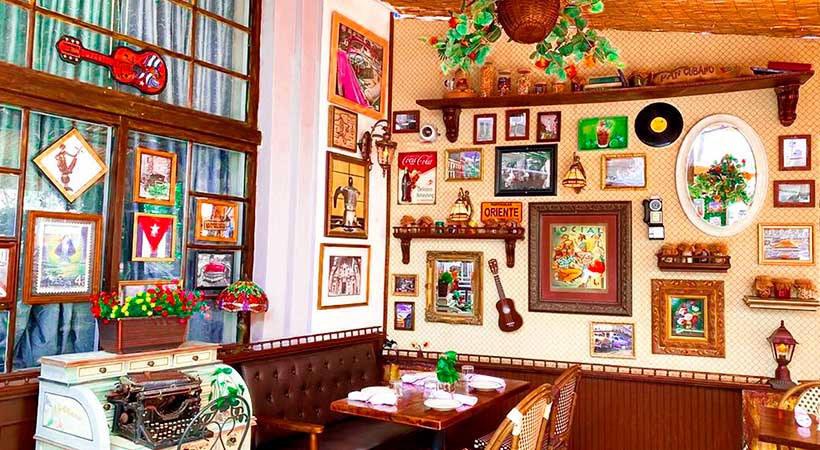 Habana Vieja restaurant is one of the best Cuban restaurants in Miami Beach. It was created to allow their guests to touch the unique atmosphere of Habana. They offer you the originality of authentic Cuban food in Miami Beach. And they are proud to share the importance and impact of Cuban culture.
They try to mix the modern perception of even better food with traditional Cuban flavors.
The Restaurant is decorated in Cuban tradition for you to feel the great atmosphere of Habana. You may listen to live music, sit on colorful chairs and feel like you are in Habana.
Here you can try the best Cuban Sandwich, which will become one of your favorites.
This eatery has a beautiful aesthetic atmosphere. There are so many adorable Cuban souvenirs to be found, and the original Cuban live music is booming loudly. They provided a wide assortment of non-alcoholic and alcoholic drinks in their bar.
To assess the cuisine, you must try the empanadas or the beef, which is juicy within and delightfully crispy on the exterior. The servings on the meat plate are usually incredible. Also, you may choose Yuka fries and sweet plantains as sidings. Remember to try the fried plantains.
#2. Havana 1957 Cuban Cuisine Espanola Way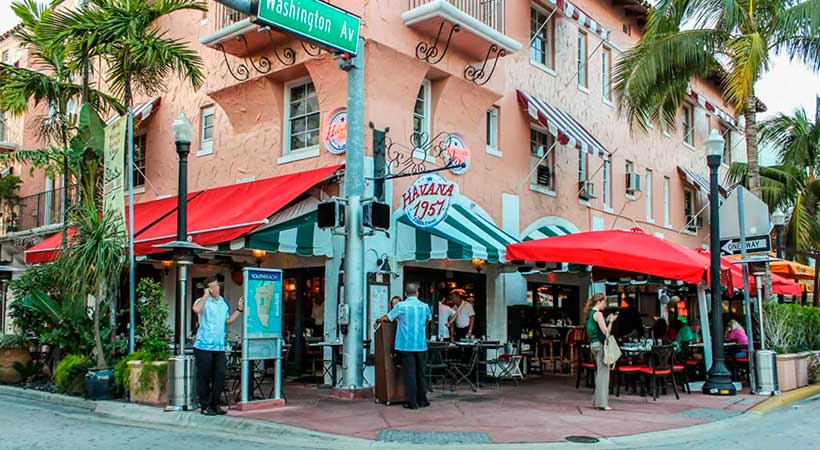 Havana 1957 Cuban Cuisine Espanola Way has been a family business for many years. They have offered their guests authentic Cuban food in Miami Beach close to Ocean Drive. Mostly they are famous for their croquetas. But croquetas are just one of the food you should try.
The menu of Havana 1957 Cuban Cuisine Espanola Way offers you not Cuban food but also Spanish and some international dishes. You must try their mariquitas. It is fried plantain strips usually served with garlic mojo or malanga fritters.
As the main meal, you may choose shredded and flash-fried flank steak named vaca frita or breaded beef steak named bistec empanizado. If you like pasta, you may try it with different sauces. Here you can try the best Tamal in Miami Beach. In addition, the Tamal en Hoja is what draws the fans to this location.
The diner uses just the family's original Cuban recipes. All ingredients are only the finest. The amazing atmosphere and chic look make this spot one of the best Cuban restaurants in Miami Beach.
#3. Puerto Sagua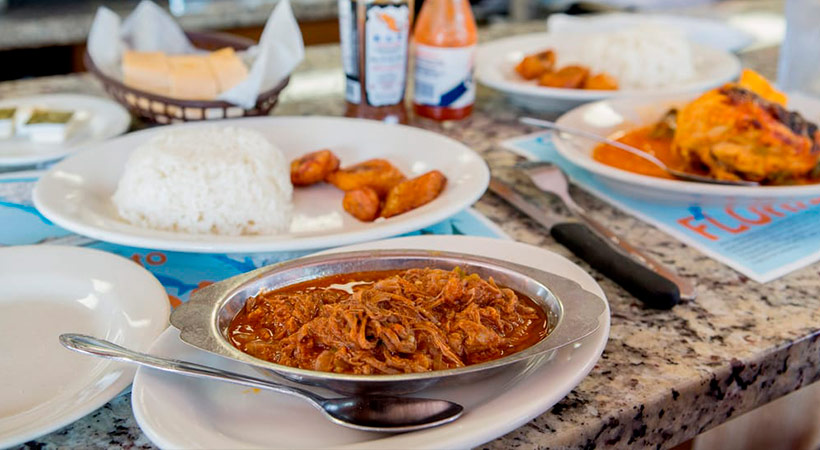 For thirty years, Miami Beach residents and guests from across the world have enjoyed good Cuban food and culture at Puerto Sagua, famous Cuban Restaurant. It immediately established itself as the gathering spot and unofficial town square for Miami's Cuban refugees once it opened its doors in 1971. It still serves as the constant barometer of the social climate today.
Here you can try the coffee, which is the best Cuban in Miami Beach. It is the hub of the Cuban American community. In addition, many people have used it as a second home over the past 30 years. You can eat there for breakfast, lunch, or dinner. Additionally, you can have a pastry and catch up on politics, rumors, or news.
Not only does the food taste fantastic, but its traditions also exude a feeling of stability. Undoubtedly, it deserves mention on the list of Miami Beach restaurants offering the greatest Cuban cuisine.
The restaurant's most well-known dish is shredded beef cooked in a flavorful tomato sauce. Additionally, it offers delicious yuca fries. Furthermore, it is renowned for its roasted pork. The Cuban Sandwich served at Puerto Sagua is well-known in Miami Beach.
A daily average of 100 to 200 Cuban sandwiches are sold there. The restaurant offers its large clientele some of Miami Beach's best Cuban sandwiches.
#4. Las Olas Cafe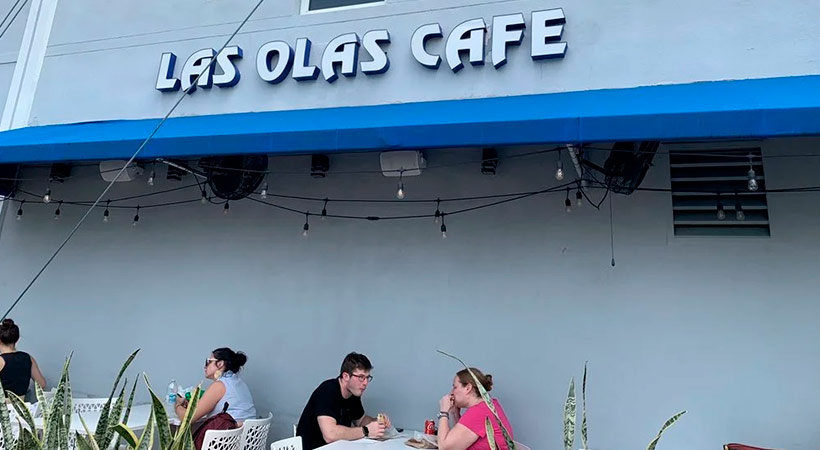 You may taste many amazing meals in this unique establishment in Miami Beach. You must try yucca fries, pork tamales, and empanadas. However, we advise you to continue with the Ropa Vieja. We can translate it literally as dirty clothing. But it is the best braised, shredded flank beef served over white rice with plantains on the side and stewed in a sofrito and tomato sauce. To finish your dinner, you may order desserts or drinks.
Las Olas Cafe is best known in Miami Beach for its Mojitos. They truly excel at producing Mojitos, as we stated before. Except for Mojitos, Las Olas Cafe offers a wide selection of alcoholic beverages. You may order almost any drink, including Gin, Rum, and vodka. You could also prepare your own cocktails on top of that.
Come during the Happy Hours, and you will take advantage of the best discounts. Las Olas Cafe offers an extensive lunch menu with discounts within a happy hour. Its daily food menu changes. For instance, it provides Rabo Encendio on Sundays. Oxtail is cooked in a red wine sauce and then stewed. It is undoubtedly one of the few places in Miami Beach that serves the best Cuban food.
#5. Moreno's Cuba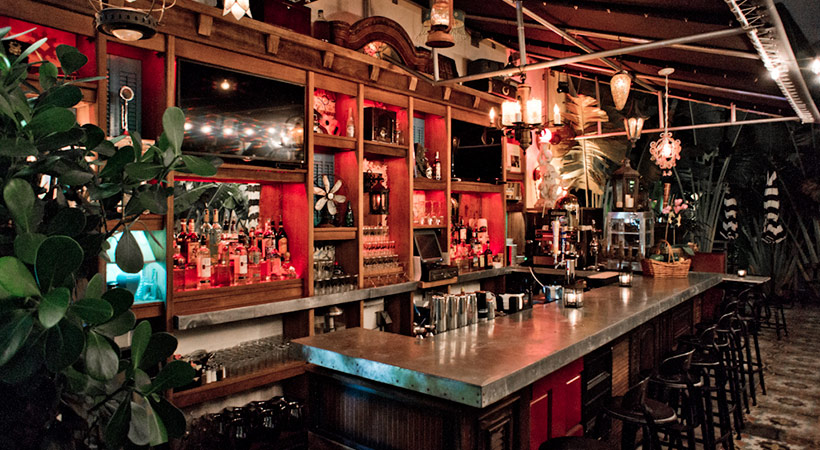 Here you can try the best Cuban coffee in Miami Beach. Moreno's Cuba is famous for synthesizing Cuban cuisine with contemporary American elements.
The typical breakfast items, sandwiches, snacks, dinners, and desserts are available to all guests, along with a special menu for individuals who want to reduce their calorie intake without compromising flavor.
The family business began as a little mom-and-pop sandwich shop many years ago. Additionally, it has many locations around South Florida and offers excellent service. Moreno's Cuba menu is a unique combination of traditional Cuban cuisine and genuine Latin American cuisine. The atmosphere in the diner is warm and inviting. Additionally, the staff goes above and above to make the visitors feel at home. It is understandable why people consider it to be one of the top Cuban restaurants in Miami Beach.
Moreno's Cuba offers a variety of substitutes, such as grilled and steamed vegetables, brown rice, and cauliflower rice. As a result, it blends seamlessly with the Volk flavor of Cuban cubism.
The key to Cuban Sandwich in Moreno's Cuba is striking the appropriate balance between the right product and the freshest components. Not to mention, it offers some of Miami Beach's top Cuban sandwiches. In addition, the diner provided a place for both blue-collar and white-collar workers to congregate. Finally, the greatest Cuban coffee in Miami Beach is also offered there. This strong coffee will keep you awake all night if you attempt to work late.
#6. Latin Cafe
This Miami Beach restaurant is a must-have to visit for people desiring the best Cuban food on any available occasion. The unusual eatery resembles a cafeteria and offers a large variety of soups, rice, beans, main entrees, and side dishes provided by weight or in portions. To wash down the meal, get one of their freshly produced fruit juices, including mamey, papaya, or sugarcane.
Here you can try the best Lechon in Miami Beach. The restaurant considers it a pleasure to serve its visitors a dish that glories everything Cuban. Along with crowd favorites, the recipe also calls for well-known Cuban beverages. Their delicious food has a timeless, natural flavor that will transport you to another era.
It is a gathering of stalls offering a variety of cuisine and beverages rather than simply one diner. It is undoubtedly different from your neighborhood juice bar.
#7. La Mulata Cuban Restaurant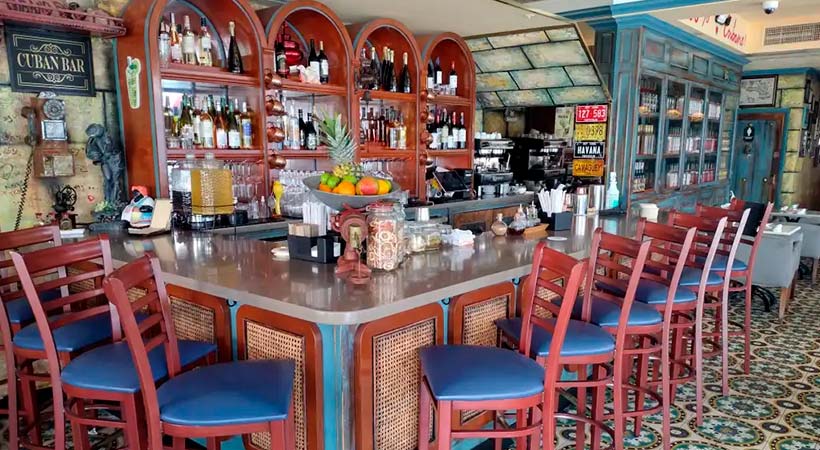 La Mulata Cuban Restaurant is one of the well-known restaurants in Miami Beach. This more than 40-year-old Cuban Restaurant has roots in Cuba. It is famous for its black beans, and palomilla steak served with a mountain of crispy fries. Also, you may try milanesas, roast pork, tasajo, and grouper fingers, which are breaded steak or chicken with tomato sauce and melted cheese. Traditional flans, dulces con queso, and guava shells are available as dessert options.
The neighborhood, where this Cuban eatery is located, is exclusively for locals. And that's exactly what you'll find here, stuffing their faces with enormous servings of rice, black beans, and other comforting dishes from Cuba. Get the palomilla steak topped with a pile of french fries there. Of course, you will only eat some of the steak and might not even enjoy them. But you will not have a syndrome of Fear Of Missing Out.
#8. Havana 1957 Cuban Cuisine Ocean Drive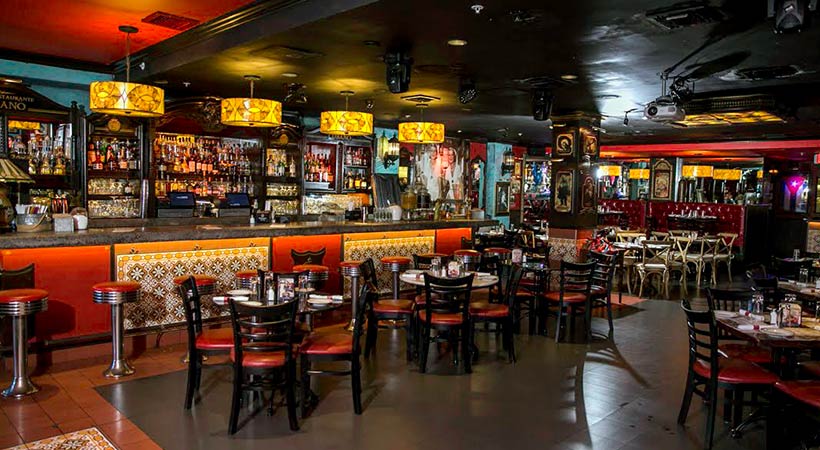 With its distinctive large wooden wheel design, this retro eatery is simple to identify. Havana 1957 Cuban Cuisine Ocean Drive has some outlets in South Florida in addition to the original Restaurant for customers who want to get their taste of Cuban food before departing from Miami Beach.
The original Havana 1957 Cuban Cuisine Ocean Drive was established in Miami Beach more than 30 years ago. After the revolution of Cuba in 1959, a sizable and increasing number of exiled Cubans relocated to Miami Beach in pursuit of a setting reminiscent of their native country. Havana 1957 Cuban Cuisine Ocean Drive was created in response to the rising desire for a genuine cultural center.
As a family-run business, it upholds the historic family dining customs of "Abuela style" cooking and the renowned authenticity of Cuban espresso. Each day, more than nine venues offer Cuban food and coffee to thousands of locals and visitors in Miami Beach. Many of them get together to honor all Cubans' cultural accomplishments and unity.
#9. Sazon Cuban Cuisine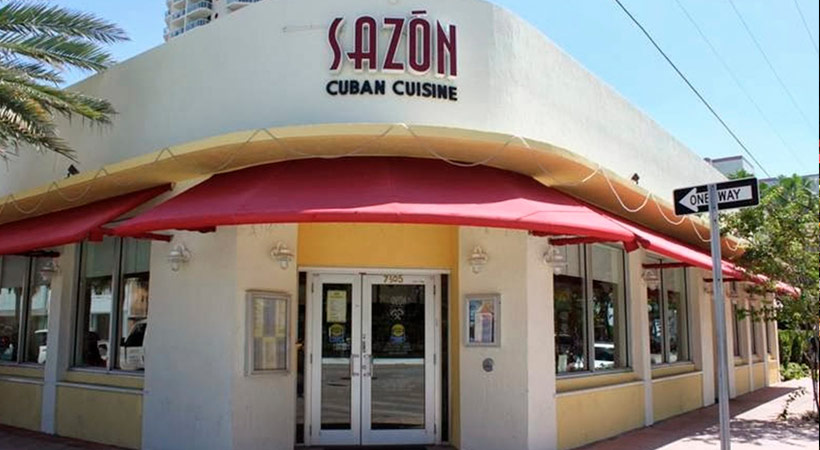 Since 1968, Miami Beach has been home to this Cuban Restaurant, which offers a range of reasonably priced great food. Start with the house combo for an authentic taste of its most well-liked starters, which includes a tamale, two croquetas, two tostones, and plantain chips. The paella is a must-try because seafood is the house specialty; nevertheless, all other typical Cuban meals and daily specials and desserts are also offered.
Here you can try the best Cuban food in Miami Beach for Ropa Vieja. The diner opened its doors for business in 1968. Sazon Cuban Cuisine is renowned for serving some of Miami Beach's greatest Cuban cuisine. It achieves this by concentrating mainly on traditional dishes from Cuba. Miami Beach is where the diner is located.
The restaurant's dinner menu includes enormous breakfasts. The restaurant provides a friendly and amazing atmosphere. Additionally, you do not need to wait for the staff. They are kind and always there to meet your needs.
There are several delicious Cuban sandwiches available at Sazon Cuban Cuisine. Several locals regard it as serving Miami Beach's best Cuban Sandwich. You should also try the fried snapper and Ropa Vieja together for the best results.
#10. Yuca 105
As Miami Beach's premier Cuban and American fusion restaurant, it was founded in 1995. A delectable touch on Latin American, Spanish, and Cuban cuisine is presented at Yuca 105, a contemporary eatery.
At Yuca 105, the owners provide a classy, delectable dining experience along with an exceptional choice of the best quality food and drinks and great service at a reasonable price. Yuca 105 will quickly become your go-to spot for Cuban food and drinks, whether you visit for breakfast, dinner, happy hour, or late at night.
The restaurant offers distinctive furnishings and ambiance that create a welcoming setting for social events and upscale casual eating. You may visit this Restaurant in Miami Beach with your family.
Bottom Line
You can easily choose the best Cuban Restaurant in Miami Beach using the information above. Having searched in Google "authentic Cuban food near me," you will indeed find a few spots in Miami Beach among the ones mentioned above.