Searching for a perfect destination to have a fantastic food experience? Visit Pismo Beach in California. This city is known for its abundant vineyards and beautiful beaches. It's on California's central coast between San Francisco and Los Angeles. Get ready to enjoy spectacular views of sunsets.
"What about the food?" you'll wonder. There are a lot of places to eat in Pismo Beach to get the most incredible gastronomical experience in your life. You'll discover various cuisines and fall in love with local food culture.
To help you choose the best restaurant in Pismo Beach, CA, I made my top 10 places you must visit while strolling around the city.
Table of Content
#1. Flagship Pismo Beach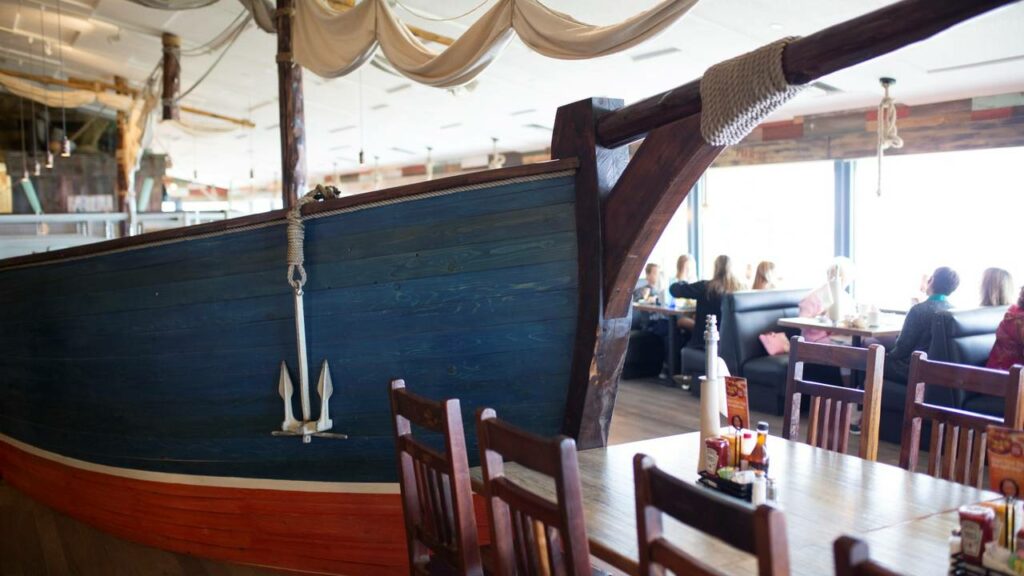 The Flagship Restaurant is perfect for delicious brunch or dinner, and you can visit them at 1601 Price Street | Pismo Beach, CA 93449, or call (805) 295-5502. Choose one dish from the Flagship Pismo Beach menu, depending on your mood. They have a lot of choices that will make you crave American cuisine. Try Pirate Tuesday! Every Tuesday, 5% of their proceeds are donated to their local elementary schools.
Or you can visit them on Happy Hour, which means $2 off draft beer, well drinks, and wine by the glass. Plus, you can get $3 House Piña Colada or Mai Tai. The Flagship diner menu consists of crabs and salads to make your night.
#2. SeaVenture Restaurant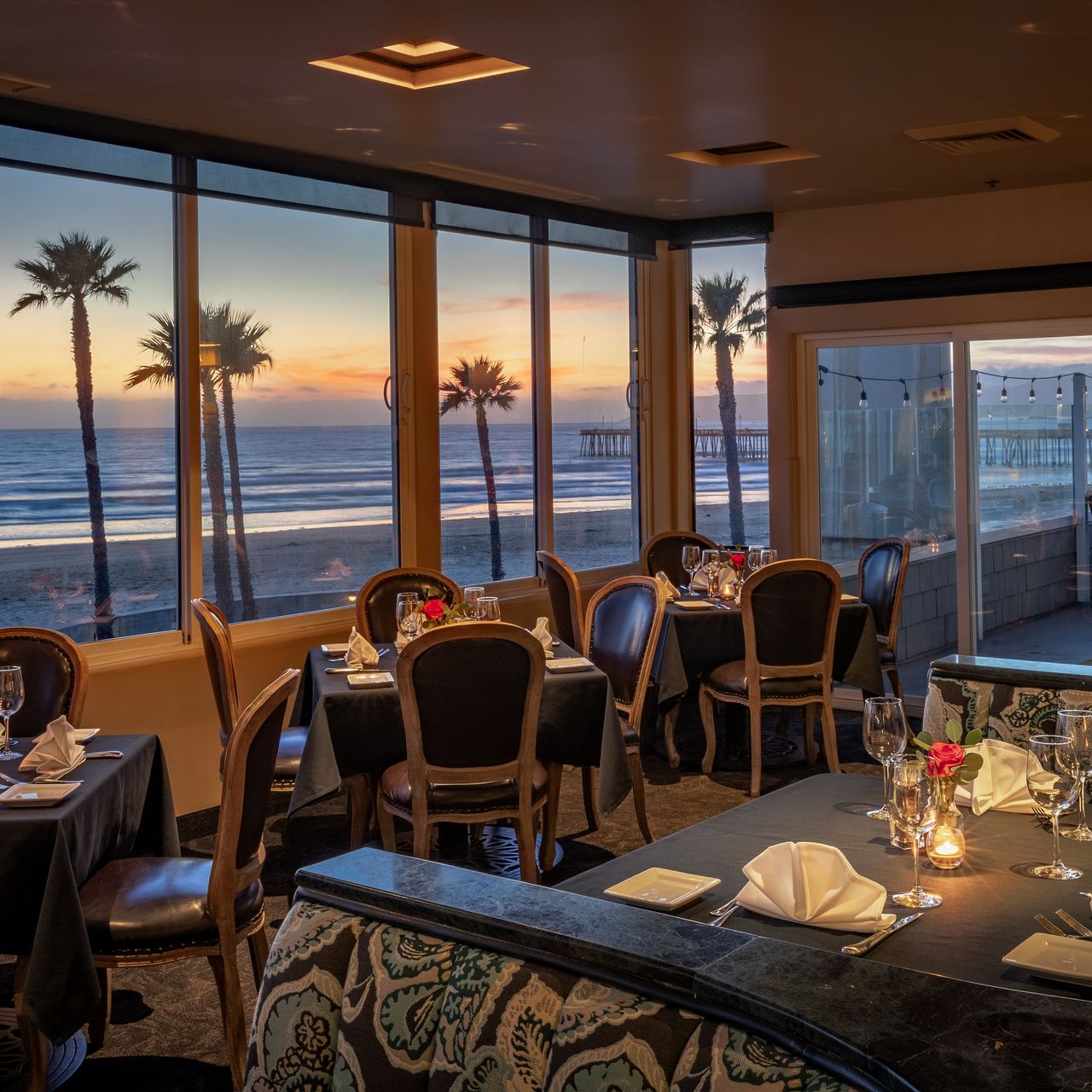 Do you want to enjoy the sunrise and have a delicious breakfast? Visit the SeaVenture Beach Hotel & Restaurant at 100 Ocean View Ave, Pismo Beach, CA 93449. It's one of the most beautiful places on Pismo Beach that combines affordable yet luxurious beach locals with upscale facilities. You can enjoy fine dining, private hot tubs, and spectacular beach views as a guest.
Among Pismo restaurants, SeaVenture presents you with contemporary cuisine with much fresh seafood, including Asian Shrimp Lettuce Wraps, Crispy Brussels Sprouts, and Crispy Calamari. If you don't know what to choose, their friendly staff will help you make the best decision. Take your friends and family and enjoy the beach view at SeaVenture Restaurant by reserving their hotel today.
#3. The Oyster Loft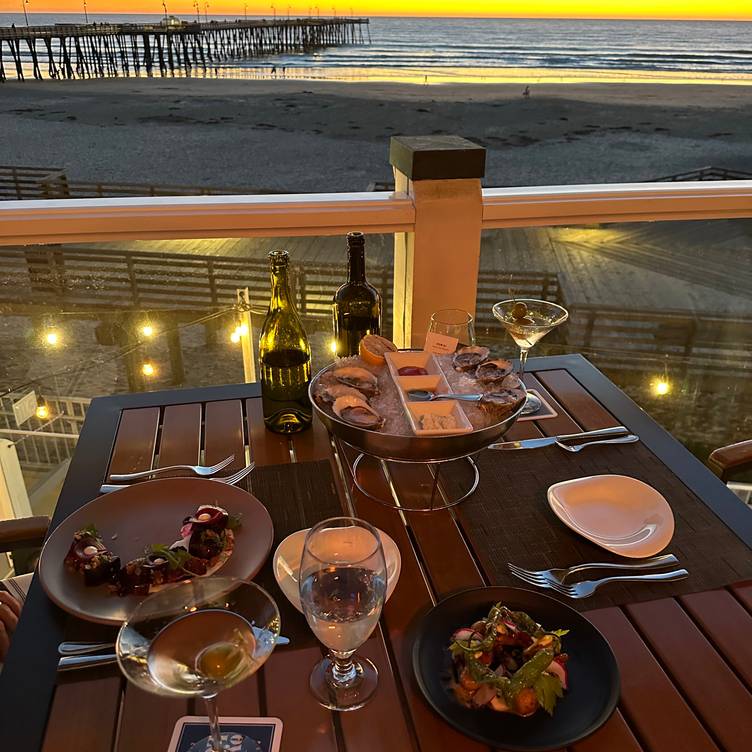 Are you looking for the best gastronomical experience in Pismo Beach, California? Visit the Oyster Loft – the perfect place to enjoy upscale cuisine and regional seafood dishes. Guests can dine inside or on the patio with sparkling views of Pismo Beach. The site invites tourists and locals to enjoy its contemporary coastal cuisine. It's easy to find them at 101 Pomeroy Ave, Pismo Beach, CA, 93449-2639.
You must choose between small appetizers, creative cocktails, and wine on the menu. Their appetizer selection changes daily, depending on the availability of the freshest ingredients.
Also, you'll meet Chef Jared Hurst and his kitchen team, who try to give you fresh produce, refined flavors, and, above all, sublime taste. Get ready to change your concepts about the best food in Pismo Beach.
#4. Penny's All American Cafe
Discover American cuisine at Penny's All American Cafe – your one-stop place where you'll enjoy the vegetarian-friendly menu and vegan and Gluten Free options. Penny's All-American Cafe was founded over 15 years ago at 1053 Price St, Pismo Beach, CA, 93449-2535. They want to emphasize its delicious food in a casual, family-friendly cafe setting. Penny, the cafe's founder, has worked at the restaurant alongside her husband, Dale, daughter, Cheyenne, and two sons, Ryan and Derek.
They are proud of their breakfast and lunch, which contain a lot of delicious items like Charbroiled Top Sirloin, Baked Sweet Apples, Sausage, Cheddar Cheese, and many other adds that make you taste the US traditional cuisine.
#5. Cracked Crab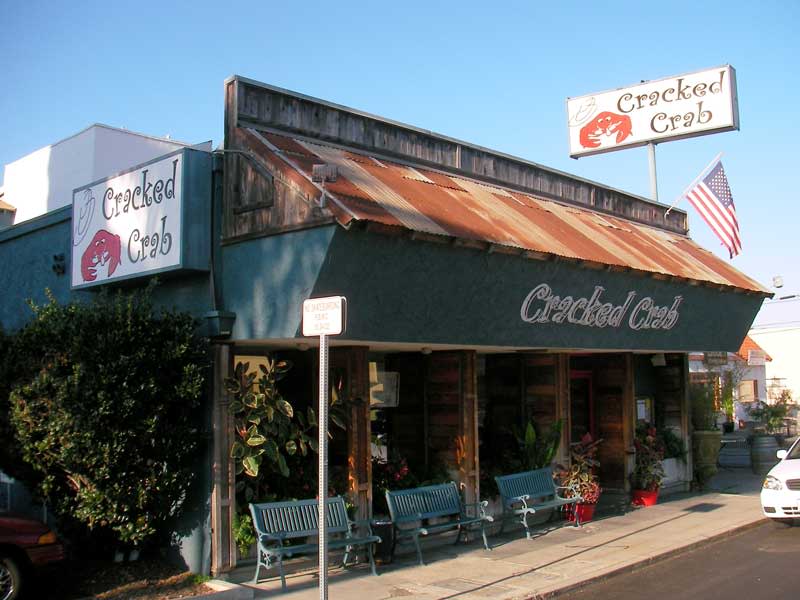 The Cracked Crab Seafood Restaurant was founded in Pismo Beach, California, in 1999 by Mike and Kathy Lee. They invite you to look around their place and enjoy the impressive menu, stylish decor, quality products, and unique philosophy at 751 Price St, Pismo Beach, CA, 93449-2529. Although the restaurant serves fine food in a friendly atmosphere, the guests are asked to dress casually for lunch or dinner. The concept is primarily based on dumping a bucket of various shellfish on your table with a mallet, crab crackers, and other tools to get the job done. You'll like it!
You can book the restaurant for a special event and celebrate it with your friends and family. Or, if you want to make someone happy, buy a gift card for dinner at Cracked Crab.
#6. Giuseppe's Cucina Italiana
Discover Italian cuisine by tasting all the fantastic food at Giuseppe's Cucina Italiana at 891 Price St, Pismo Beach, CA, 93449-2531. The restaurant was founded in 1988 by Giuseppe DiFronzo, an Italian passionate about great food and family values. Giuseppe was an early adopter of the farm-to-fork philosophy and wanted to create the perfect place to eat Italian and enjoy a rustic atmosphere.
Those twelve acres of fertile Edna Valley soil gave birth to the working farm, a piece of "il dolce farniente" – the pleasure of doing nothing. Get ready to discover figs, olives, San Marzano tomatoes, squash, Hachiya persimmons, and Meyer lemons. Also, you're welcome to taste the five grape varieties that produce Giuseppe's own DiFronzo Vineyards brand wines.
#7. Ventana Grill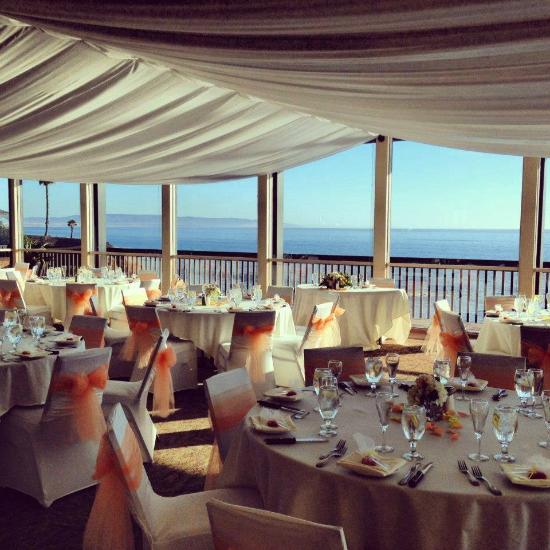 The Ventana Grill was mentioned in the top 10 most scenic restaurants in the US, and it's located at 2575 Price St, Pismo Beach, CA, 93449-2111. Here, you can enjoy your lunch, dinner, and family meals. The menus are an excellent option for everybody who wants starters, like Chopped Salad, Ham & Jalapeno Pasta Salad, Chorizo Quiche, and Spinach Feta Quiche. For brunch, they offer corn-dusted Calamari and Halibut Ceviche. And their dinner is something you must try because their Sea Bass Veracruz is amazing.
You can make reservations, and a party of 8 is encouraged. Parking and highchairs are available. More than that, the wheelchair is also accessible. The restaurant accepts credit cards and offers gift cards perfect for holidays, birthdays, graduations, employee appreciation, and all other special occasions.
#8. Cool Cat Cafe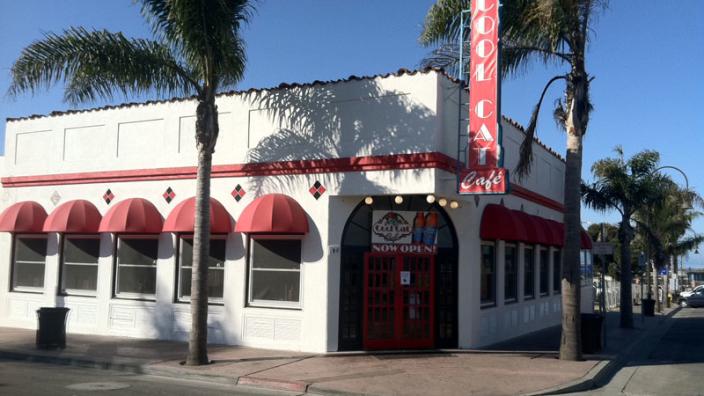 Visit Cool Cat Cafe to taste the best burger in Pismo Beach. Founded in 1992, family-style dining offers American cuisine and warm hospitality in a 50's retro atmosphere. You are welcome at 198 Pomeroy Ave, Pismo Beach, CA, 93449-2640.
All their delicious burgers are made fresh daily, and their signature burgers are 100% Certified Angus Beef and seasoned with their unique blend of spices. You can add seasoned fries, onion rings, or a side salad to make it more tasty. They have takeout and delivery options if you want to enjoy their menus at home or office.
#9. Rosa's Italian Restaurant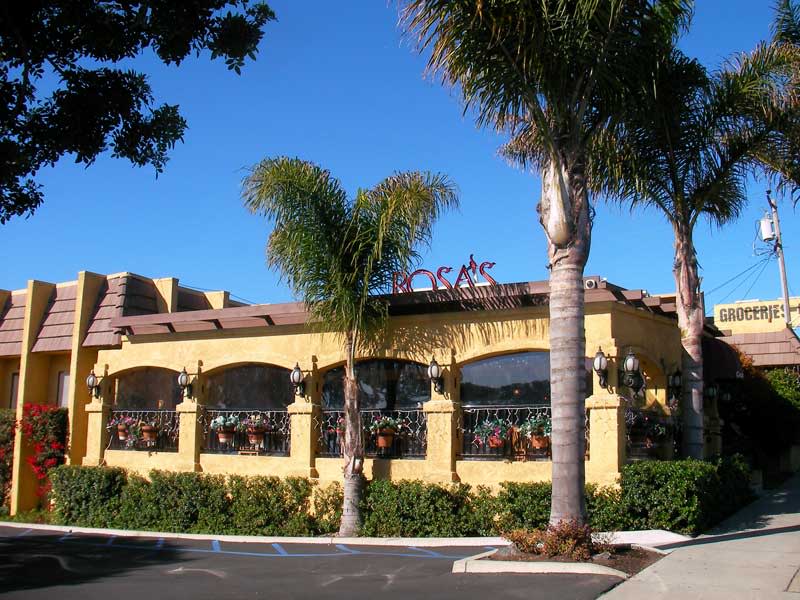 Another Pismo Beach restaurant you would like to discover is Rosa's Italian Restaurant, located at 491 Price St, Pismo Beach, CA 93449. It presents regional Italian cuisine, with a California flair. It is a family-owned restaurant founded 40 years ago. The idea of the opening comes from when Rosa Cristallo was living in Bonito, Italy. This region has always been proud of tomato sauces, olive oil, fresh vegetables, pasta, and seafood dishes. That's why she decided to bring all of these to Pismo Beach.
So, the restaurant menu offers lunch and dinner with Italian dishes like Burrata e Pomodoro, Fried Ravioli, and Spinach Gamberetti. The restaurant is also suitable for banquets for corporate or family events. You can choose between takeout and delivery options to enjoy their food at home.
#10. Ada's Fish House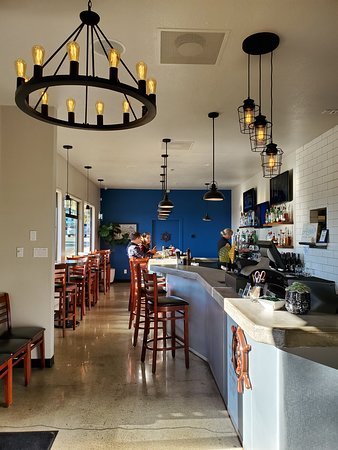 Ada's Fish House is a family-owned restaurant that offers a lot of fresh fish and seafood in a relaxed atmosphere at 558 Price St, Pismo Beach, CA 93449. You discover their menu with East Coast influences containing steamed clams and lobster rolls with Halibut, grilled swordfish, and seafood pasta.
Executive Chef and owner Douglas MacMillan is always trying to discover new and exciting dishes that are simple and fresh. You can enjoy their full bar by tasting the Mediterranean wine. To ensure you have a table, make a reservation at least 24 hours earlier.
Bottom Line
So, there you have it, folks! I've taken you on a mouthwatering journey through the top 10 places to eat in Pismo Beach, CA, and it's been quite a ride. We've explored a variety of culinary delights and uncovered some true gems along the way.
Check out these top-notch restaurants next time you find yourself in this beautiful coastal town. Whether you're seeking a hearty breakfast, a leisurely lunch, or a memorable dinner, Pismo Beach has something to satisfy every craving.